CPanel Announces Account Based Pricing
On June 27th, 2019, cPanel announced a new account-based pricing model that completely changed the way customers are billed and resulted in a price increase of up to ~2000%.
While the hosting industry expected the price increase, no one imagined the actual model would change, and cPanel users would no longer be able to create unlimited accounts. That change affects the whole hosting industry, so we'll try to explain its basics and what you can do about it.
With the new change, everyone will be affected differently, depending on the number of accounts on their servers. Hosts now have to pay $0.20 for each account over 100 on each cPanel server they run, effective from September 1st, 2019.
For now, ScalaHosting is not changing prices as cPanel may decide to revert the price increase to some extent due to the huge backlash from the entire hosting industry. Depending on their decision, we will announce how our customers are affected and what options they have should they decide not to pay the cPanel hosting price increase.
ScalaHosting has disabled the billing cycles longer than 1 month until we know what is going to happen as cPanel evaluates the feedback after the announcement. All hosting services have been switched to monthly billing until then.
Shared Hosting
Shared hosting prices will increase because the base cPanel license will now cost 250% more per server plus $0.20 for each account over 100. The price hike will not be significant in the segment as ScalaHosting will absorb as much of the impact as possible.
Reseller Hosting
Reseller hosting servers house many accounts as resellers have the ability to create as many accounts as possible. The new cPanel pricing model will see resellers pay $0.20 more for each of the accounts they created. We will wait and see if the provider keeps that new model or decides to make a change.
The new cPanel account-based pricing model will probably put an end to the unlimited reseller hosting plans, or at least see hosts charge much more for such a service.
VPS Hosting
VPS clients will not be affected. Their rates will remain the same if they host up to five cPanel accounts on their virtual server plan.
Having more than 5 accounts but less than 30 and your price will increase by about 40% per cPanel license, which translates to ~$5 higher.
If you have more than 30 accounts but less than 50, you will have a ~100% cPanel license increase to an equivalent of ~$15.
If you have more than 50 accounts but less than 100, you see a ~150% raise in licensing fees.
| | | | |
| --- | --- | --- | --- |
| Plan | Accounts | Old price | New Price |
| cPanel Admin | 5 | $15 | $15 |
| cPanel Pro | 30 | $15 | $19.95 |
| cPanel Plus | 50 | $15 | $27.95 |
| cPanel Premier 100 | 100 | $15 | $34.95 |
| cPanel Premier 150 | 150 | $15 | $36.95 |
| cPanel Premier 200 | 200 | $15 | $42.95 |
| cPanel Premier 250 | 250 | $15 | $48.95 |
For every 50 accounts over 100, cPanel will charge $10 per month. The Rise in cPanel's Pricing Shakes the Budget Hosting Industry.
What is Your Alternative?
Not much has happened in the hosting industry in the last 15 years in terms of security and software innovations. Hosting companies have been adding different features in an attempt to patch up the broken shared hosting model. Companies like Amazon (with AWS) and Microsoft (with Azure) dramatically brought the price of virtual servers down and positively influenced the entire industry.
At ScalaHosting, we knew that a change was coming. Shared hosting will lose some of its popularity and VPS hosting will emerge as the new norm, offering much more control and security at an increasingly affordable rate.
For the last four years, the ScalaHosting Team has worked on developing unique and innovative solutions that will serve as great alternatives to established market leaders.
SPanel
SPanel is a next-generation control panel that was born to make the Internet a safer place for everyone. ScalaHosting has generated statistics from all cPanel servers to find what are the top features people use, integrating them into SPanel. Interestingly enough, we found that more than 90% of users were taking advantage of less than 20% of the features at most.
SPanel has it all. The platform easily integrates with Nginx, LiteSpeed, Let's Encrypt, and other industry-leading solutions. Additionally, SPanel supports PHP 5.6, 7.0, 7.1, 7.2, 7.3 running as PHP-FPM.
Utilizing Nginx, your website will load faster on SPanel than on a standard cPanel server. Our proprietary platform is quite lightweight as well, easily performing even on a 2GB RAM VPS.
At the end of the day, even if you are currently hosted elsewhere, the ScalaHosting support will happily help you with the migration to SPanel absolutely free of charge.
Here is how things are looking when you log in: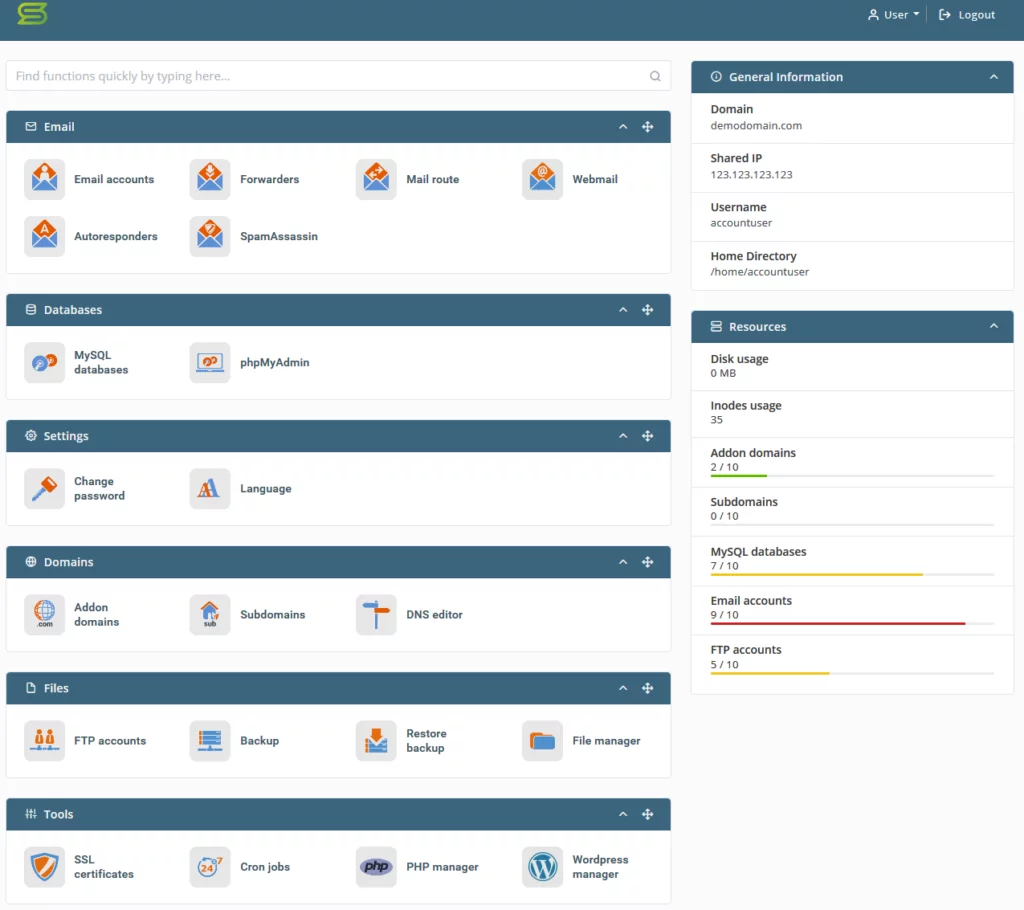 SShield
SShield is an innovative security system that protects your websites in real time and blocks 99.998% of all known cyber attacks. The solution also monitors your website's health, and, in case of a hack, the site owner is instantly notified.
SShield prepares a report of the compromise, provides details about the affected data, and gives you steps to fix the vulnerability. If you can't secure the website on your own, you can always contact our support for help.
The best thing? SShield runs on every managed cloud VPS server and doesn't cost anything extra. It's just a part of the perfect hosting environment we try to ensure for every hosting client.
SWordPress Manager
WordPress users take advantage of the built-in SWordPress Manager. It has the following features.
One-click install/uninstall
Automatic updates of the WP core, plugins, and themes
Security Lock feature, which makes site files and directories inaccessible
WordPress admin password reset
Backups, cloning, staging
SPanel Benefits
SPanel is a quick and easy replacement for cPanel that saves all the associated licensing fees. It is fast, lightweight, and doesn't have any software limitations. The ScalaHosting Team adds new features and increases the value you get all the time.
SPanel is not just a control panel – it is an all-in-one web hosting solution. You get:
Better Security – the integrated SShield and spam filters guarantee to reduce the chances of a hacking attack to a minimum.
Consistent Load Times – your websites will always load fast. Other clients on the same server won't have any impact on your site performance.
100% Email Delivery – your emails will never get blacklisted as you will have a dedicated IP that no one else utilizes.
WHMCS integration – add the world's most popular hosting management solution and operate all your accounts easily from a very intuitive interface.
How to Switch to SPanel?
You can get SPanel with any of our managed VPS servers. They come with the platform preinstalled and configured by the Scala Team. If you don't think any of our four packages are a good fit, you can customize your server with as much resources as you wish.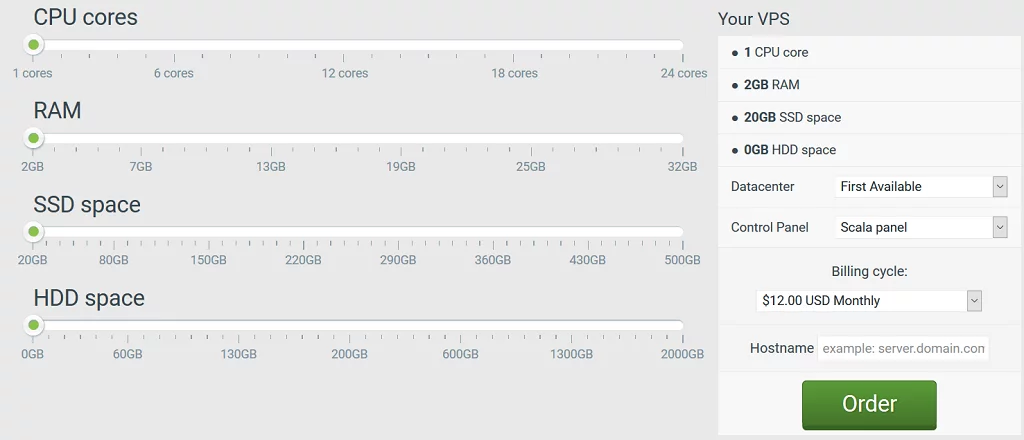 If you ever decide to switch from SPanel to a cPanel server, ScalaHosting will migrate your websites back at no extra cost.
Additionally, you can use SPanel with any other hosting provider, thanks to the affordable licensed plans at SPanel.io. Beginners can take advantage of managed packages, adding professional setup and support from the platform developers.
Was this article helpful?