6 Simple Rules to Improve Your Customer Service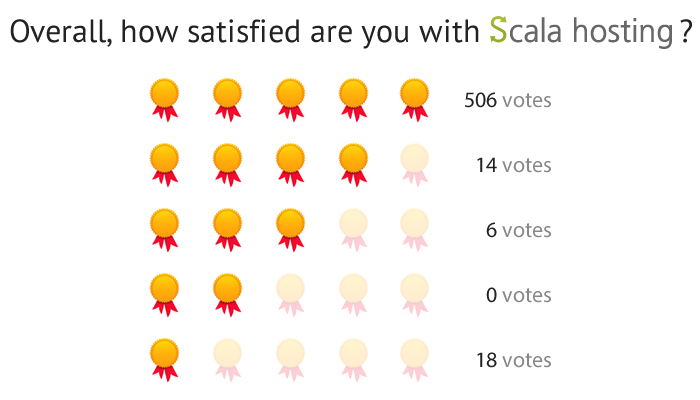 Scala hosting clients satisfaction survey data, 1st of January – 1st of July 2014
Maybe, for some people, the question "How to improve our customer service" has no answer. For others, it is so obvious. In fact, improving our customer service is simple, but we need to know the rules of the game and to act, every time, on 100 %, with 200 miles per hour.
"I can't understand what exactly do these people want? They aren't satisfied at all, while we do our job perfectly." We often can hear that kind of client dissatisfaction explanation. This is happening because of the situation and customer desires misunderstanding.
What does the client want? Every marketing specialist, a business owner, an account manager, etc. ask themselves this question. After all, your business exists thanks to the clients. And we may never reach the real customers' desires, even if we have done plenty of researches, polls or surveys.

Everything is based on psychology. It isn't a coincidence that in most ads the emotion plays a big role. Exactly that way, the advertisers can provoke the clients impulsive actions.
It is important to win new customers, but it is more important to be able to keep them and to turn them into loyal clients. That's why I will give you 6 simple rules to make your customers loyal. They are applicable to any business, and we successfully apply them in our web hosting services providing business, every day.
Rule 1 – Be always available.
It doesn't matter if it's on the phone, on e-mail, or in social networks. If you give your clients many ways to contact you, you have to be prepared to answer them. If the phone rings, you have to pick it up or to return the call; if you receive an e-mail, you should answer within minutes; if someone writes you on Facebook, Google +, or Linked In, it is a good practice to respond in a few hours. It isn't easy to manage all these social networks, but it is worth it.
Rule 2 – Be honest
You don't have to tell everything to the clients. They don't need to know about all the technical terms. But don't lie! Meet your deadlines, promise things that you are actually going to do.
Rule 3 – Don't belittle the problem
You are a professional, you know exactly what to do, how to react immediately in 99% of the cases. Well, this is very cool, but the customer needs to be carefully listened, and to know that you will investigate in depth his problem.
Rule 4 – Give more than expected
It isn't enough to answer quick, polite and correct. You have to do more! Imagine, for example, that you want to buy a kilo of tomatoes. The vendor decides to add some green peppers in your bag for free. That would be great, wouldn't be? Even if you decide not to eat the peppers, the act is very kind. For the vendor that is not a big effort or expense, but for you is a special treatment.
Rule 5 – Take your customers to the desired destination
That rule applies both to your online and offline shop or office. Your company website should be easy and intuitive to use. Your customers need to quickly find the products or services they are interested in. The same is true for your physical store or office. Just bring the client to the right place.
Rule 7 – Invest in your staff education
It is very important to invest in your staff education, because every member of your team should have the same client approach and communication.
The key skills that your customer support team should know/have are:
Patience, Attention to details, Clear communication, Perfect knowledge of the product/service, Acting skills, Positive language, Flexibility, Persuasion skills, Closing the deal ability, Willingness to learn.
And finally, I will share with you the Scala hosting client services data that we monitor constantly. This data helps us to improve the quality of our hosting and domain services that we provide.
Time for answering by:
– E-mail – 10-20 min.
– Chat – immediately
– Facebook – in a few hours
The number of our loyal clients is increasing, because as a hosting company, we at Scala hosting, always give the best quality, improve the client services support, invest in our staff education. We develop our skills all the time and listen to your recommendations.
We'll be happy to hear from you. Just leave your opinion below this article, in Facebook, or write us an e-mail.