When using WordPress always opt for WordPress hosting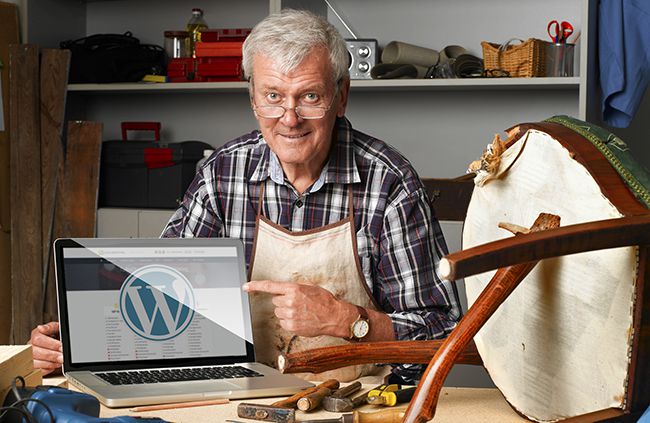 How did WordPress become such a huge part of our everyday experience on the internet? We live in the 21st century and it's the time when a business owner is bound to create a website for his company. Not only does a website bring a professional and reliable business image, but it establishes a secure bridge for communication between the company and its customers. One of the easiest and fastest ways of starting a website is by using a website builder. This is actually a software, which contains a variety of templates and designs. All you have to do is install the platform and then upload your content on it. Simple as that. Up until now the most popular website builder is WordPress. It's an interesting fact that even some of the huge websites of our time such as eBay and the websites of Beyonce and NASA are created by using this platform. So why is it the number 1 choice nowadays? Firstly, it is free. Of course, you would have to pay for some of the advanced features, but we will talk about this a little later. The platform is really easy to use – it doesn't require any programming skills, so that's why everyone is able to create a website. Not to mention that there are thousands of articles and videos on the web explaining every little detail of the platform's structure, so you are bound to find an exact answer to each of your questions. And you don't need to know anything about designing a website – WordPress will provide you with an enormous variety of templates and designs to choose from – and that's why it is suitable for every kind of a website. And it offers flexibility too – if you would like to install any plugins, you will have this opportunity. The platform also provides you with the chance to create a blog for you website – and this is a must for every business website. The advantages of WordPress are so many that we might need a whole new article in order to describe them all. Hopefully, you have already chosen WordPress for your website builder, because we will deepen on the optimized wordpress hosting in the following lines.
So, the first question to pop up when choosing WordPress for your website builder is: "What is the difference between www.wordpress.com and www.wordpress.org?" Well, the main one is that wordpress.com provides you with hosting services and wordpress.org does not. This means that by choosing the WP.org you will download a template and then you will have to find another hosting service for yourself. And with WP.com you won't have to install any software, because your website will be fully hosted by the administration team of WordPress. This service is free (with the exception of some specific upgrades). But if you would like to establish a professional business image for your website, then you'll have to pay for an own domain name (www.example.com instead of www.example.wordpress.com) or for a website free of annoying adds. WordPress.com is perfect for personal websites and blogs – such cases, in which you don't need a lot of freedom and would not like to take care of server maintenance, spam protection and upgrades. But if you're running a business website, you will not be satisfied with the limitations of the free platform like the impossible installation of specific plug-ins or the prevention from a modification of the PHP source code for example. By choosing to use WP.org you will be able to modify your template as much as you like. Practically, with this option the sky is the limit. It would cost you more to contact and sign a hosting company, but keep in mind that the free WordPress hosting service would also harm the SEO of your website.
But why is web hosting so important? Well, without web hosting, your website will not be visible to the rest of the world. When you create a website you need to connect it to the internet. This is almost impossible to do at home, because your PC would not have the needed power to maintain your website. And this is where the web hosting companies step in. When you contact a web hosting provider, he stores your content on a very powerful computer, called server, and then publishes it on the internet. You can image it like uploading photos and videos on your Facebook timeline so your friends are able to see them. The success of your website depends a lot on the work of the web hosting company. Whether your website is accessible or not, whether the pages load fast or slow, whether the technical issues are immediately taken care of or not, it all lies in the hands of your web host. As we mentioned, even the good place of your website in the ranking of the search engines is a matter of good hosting. The choice of a reliable web host is an important and difficult decision. You should take your time, research and compare before making this vital step. But even more difficult than the choice of a web host is finding the most suitable web hosting plan for you. And so we came to the point of this article: When choosing a web hosting for a WordPress website why do I need to go with a WordPress hosting?
To start off, there are 4 types of traditional hosting – shared, VPS, dedicated and cloud. It is good to know that all of them can host a website, created through WordPress. But because of the fact that most of the web hosts do not offer optimized servers for maintaining such a website, it happens from time to time that the website experiences downtime and slowness. And when it comes to business this might have a negative effect on the income – the slowly loading pages and inaccessibility would surely repel a lot of customers. Up until a couple of years ago, the only solution to the problem was either you or a hired server admin to optimize your server. But with the advance of the web hosting services was found a new way of tackling with the problem – namely a WordPress specifically optimized web hosting or the so called Managed WordPress Hosting. Basically, by choosing this type of web hosting the speed, updates, uptime and security will be in the hands of your provider, who will optimize them in order to bring you the most satisfying WordPress experience. Not to mention that a hosting plan of this kind would cost you much less than hiring an optimization expert. And the best part is that the hosts offering WordPress hosting know the WordPress servers extremely well. This means that if any issue comes up, they will take care of it immediately and efficiently in counter to many of the other providers, who will all in all only sell you bandwidth and resources and do nothing more. So, compared to the other hosting options, this one will provide you with the ultimate technical support. And how about speed? An optimized WordPress hosting plan will offer you the best speed, because the providers use the latest caches in order to improve it. And since the loading speed of the website's pages is a factor for the ranking in Google, this type of hosting will have a positive effect on the SEO as well. You won't need to worry about server updates either – your WordPress hosting provider will complete them automatically as soon as it is possible. Your host will also be in charge of the backups. These are extremely important in cases of data loss or cyberattacks. We all know how annoying it could be to lose important information due to some failure or a virus. With WordPress hosting you will not experience this kind of a misfortune. Because of the fact that WordPress is powering 18% of the web and the chances of cyberattacks are big, the security levels of the WordPress optimized hosting are very high. You will have a daily malware scan and a firewall installed as well, so your website will be basically virus-proof. And all of those features will spare you a lot of time because you not only will not need to do any work around the server, but you will not have to learn how to use the WordPress platform either. Some website owners spend hours inspecting the manuals and guides for all of the tools, featured in the website builder. You can spare yourself some time and energy, because all of the technical stuff will be already taken care of. As you can see, the smartest decision when running a WordPress website is choosing Managed WordPress hosting.
Some of you may like to know if there are any disadvantages to a WordPress hosting plan. The only significant one is the price. However, we already mentioned that such plans are recommendable for businesses or very professional blogs. The owners of such websites need to invest in online presence and in a serious business image, so the financial part must not be a great concern. And to some people the limited control on the server is another disadvantage. However, the fact that the hosting company is taking the optimal care of your server doesn't mean that you will not be able to install the applications that you like or to have an opinion on the matters concerning the server's configuration. Actually, the adequate technical support can be seen as a clear benefit, because it would spare you a lot of time and worries about the possible technical problems. As you can see, there isn't any significant reason for you not to try out a WordPress hosting plan. If you still aren't convinced about all of the advantages of the WordPress web hosting, you can visit our website and find out about all of the additional features by yourself.
Because of the fact that the WordPress hosting is a relatively new option, many of the owners of websites, created through the platform, have chosen one of the traditional web hosting options. So, if you already have a website, but it is not hosted with a WordPress hosting plan, you're probably wondering if transferring to one would be difficult. The answer is no. The downtime, which you may experience, will be reduced to a minimum. Most of the companies offering this type of hosting will test your website on their servers and then let you see a preview before entirely switching to the WordPress optimized hosting. However, it is good to make a little research and see if the company you've chosen is charging money for the migration and what exactly is its way of dealing with the transfer in comparison to the other web hosts providing this service. You will be surprised by how quick and painless the process is. Go ahead and transfer to WordPress hosting and you will notice the huge difference immediately.
Did we succeed in convincing you about the advantages of the WordPress hosting? To sum it up, you will be provided with the best speed, high levels of security, data loss protection and a remarkable technical support. Leaving the maintenance of your website in good hands will definitely influence your business positively. Many of the potential customers will be attracted by the incredible speed or the absence of technical issues. Keep in mind, that investing in online presence is the key to good marketing nowadays. Don't fall for the advertisements of free hosting services, promising an excellent performance, and rely on the WordPress experts. No one will be able to maintain your website better than a host, offering a managed WordPress hosting. Establishing a secure and well maintained website will bring you on the front line of the big business competition. It is a way to present your company in the best possible light. You will be surprised by how much income you would gain just by staking on the best possible hosting experience.