SPanel: A Next-Generation Hosting Platform
SPanel is a next-generation cloud hosting platform, an ALL-IN-ONE solution allowing every site owner to host unlimited websites on their own fully managed cloud VPS anywhere in the world.
SShield cyber-security real-time protection, daily backups at a remote data center, snapshots, and 24/7/365 technical support are just some of the integral parts that make the platform an ideal solution for web studios and online business entrepreneurs.
SPanel features an Admin Interface, a User Interface, and a powerful API for 3rd party software integrations. SPanel supports all major web servers – Apache, Nginx, LiteSpeed Enterprise, and OpenLiteSpeed. The latter two are the fastest in the world for serving websites.
SPanel — The All-in-One Cloud Hosting Management Platform
Introducing The SPanel Admin Interface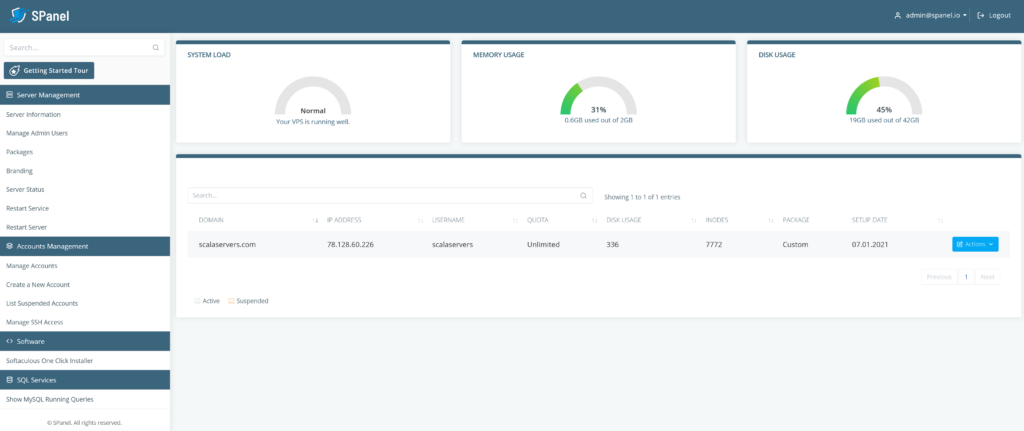 The SPanel Admin Interface allows you to create, remove and manage your accounts, check the server status and see information about disk space, CPU & RAM utilization, and also restart services. You may brand SPanel with your own logo and company name and you can add more admin users with custom permissions to view/access only the sections you want.
The server owner may create packages with pre-defined resources such as disk space, inodes, maximum emails, domains and databases or simply set custom resource allocations to each of the accounts on the server.
Introducing The SPanel User Interface
The SPanel User Interface is where you manage each of the individual accounts. An SPanel VPS admin user may quickly switch between the Admin and the User interfaces for a smooth and easy accounts management process which is a huge time saver for developers.
Alternatively, the SPanel VPS owner may optionally provide access to the SPanel User Interface of individual accounts to 3rd party users where they can manage emails, domains, subdomains, databases, DNS zones, SSL certificates, backups, PHP versions, custom php.ini settings, install 400+ web applications with a single click including WordPress, Joomla, Magento, Prestashop and many more.
Featuring OpenLiteSpeed, The Fastest Web Server in The World

SPanel heavily focuses on site performance. It supports the OpenLiteSpeed web server which is deemed to be the fastest in the world for serving websites.
The great thing about OpenLiteSpeed is that it natively supports all caching plugins of the web server's paid version, LiteSpeed Enterprise. Those caching plugins are designed to work with the LiteSpeed web server only and deliver faster results than any other caching system in the world. They are available for WordPress, Joomla, Opencart, Drupal, MediaWiki and others.
While LiteSpeed Enterprise is a 100% drop-in replacement for Apache and costs extra, OpenLiteSpeed is free and just as fast as the paid version.
Designed For Security and Better Experience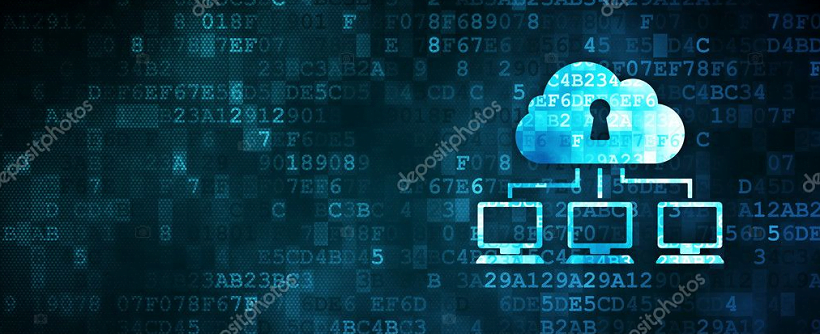 All features around SPanel are developed with the security factor in mind. Each SPanel VPS is custom-tuned for ultimate performance in a completely isolated environment.
Taking advantage of the 24/7 proactive monitoring, website owners get a service that gives them peace of mind that their website will be online at all times. Each website benefits from the SShield real-time protection security system, which blocks 99.998% of web attacks and provides a new level of proactive security.
Every Website Deserves Its Own VPS
Choosing a VPS over shared hosting is becoming more of a no-brainer nowadays. Virtual servers benefit from immense performance and control, maximized security, and freedom to do pretty much anything. Even if you don't know a thing about server management – you can simply opt for a managed VPS solution and have the ScalaHosting Team handle all technicalities for you.
In short, the virtual servers benefit from:
Enterprise-grade security
Faster page load times
Dedicated IP address
Better SEO rankings
High email deliverability
Availability and Pricing
SPanel makes Managed VPS services affordable. You can secure an account for as low as $14.95/mo, and that will get you a VPS with 2 CPU cores, 2 GB RAM, and 50GB ultra-fast NVMe SSD space. Alternatively, you may purchase an SPanel license only with full server management and deploy it on any server in the world. Check out https://www.spanel.io/pricing.html for more details.
ScalaHosting will migrate all your websites from your old server at no additional cost, verifying that each website loads properly on your new SPanel VPS.
Our global technical support team is available 24/7 to transfer your websites at a convenient time of your choice. We will help you in every step of the process to switch your website to SPanel without downtime or data loss.
Start For FREE
Contact us today for a 7-day risk-free trial to taste the SPanel cloud management platform. We'll migrate your website at no extra cost so you can see the difference before paying a dime.
Was this article helpful?