SPanel v2: A Next-Generation Hosting Platform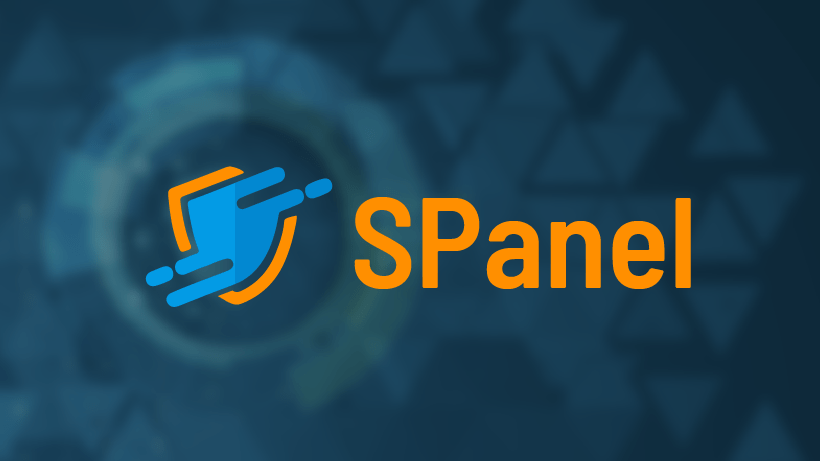 The new version of SPanel is being released today delivering innovations that will change the hosting industry and the way websites run online. SPanel is a next generation hosting platform. It is an "all-in-one" solution allowing every website owner to host unlimited websites on their own cloud VPS with a control panel, SShield real-time protection, daily backups and snapshots, managed by experts 24/7/365 at an affordable price. The new SPanel features a user interface, admin interface and a powerful API allowing you to provide access to 3rd parties such as web developers or your own clients to manage their individual hosting accounts. The owner of the server gets access to an administrative interface to create new accounts and manage them, view the server status, load, disk, CPU and RAM utilization, restart services if necessary, suspend/unsuspend accounts and many others. In the new version SPanel supports all major web servers – Apache, Nginx, LiteSpeed Enterprise and OpenLiteSpeed with the last 2 being the fastest in the world for processing both dynamic and static content.
Introducing The SPanel User Interface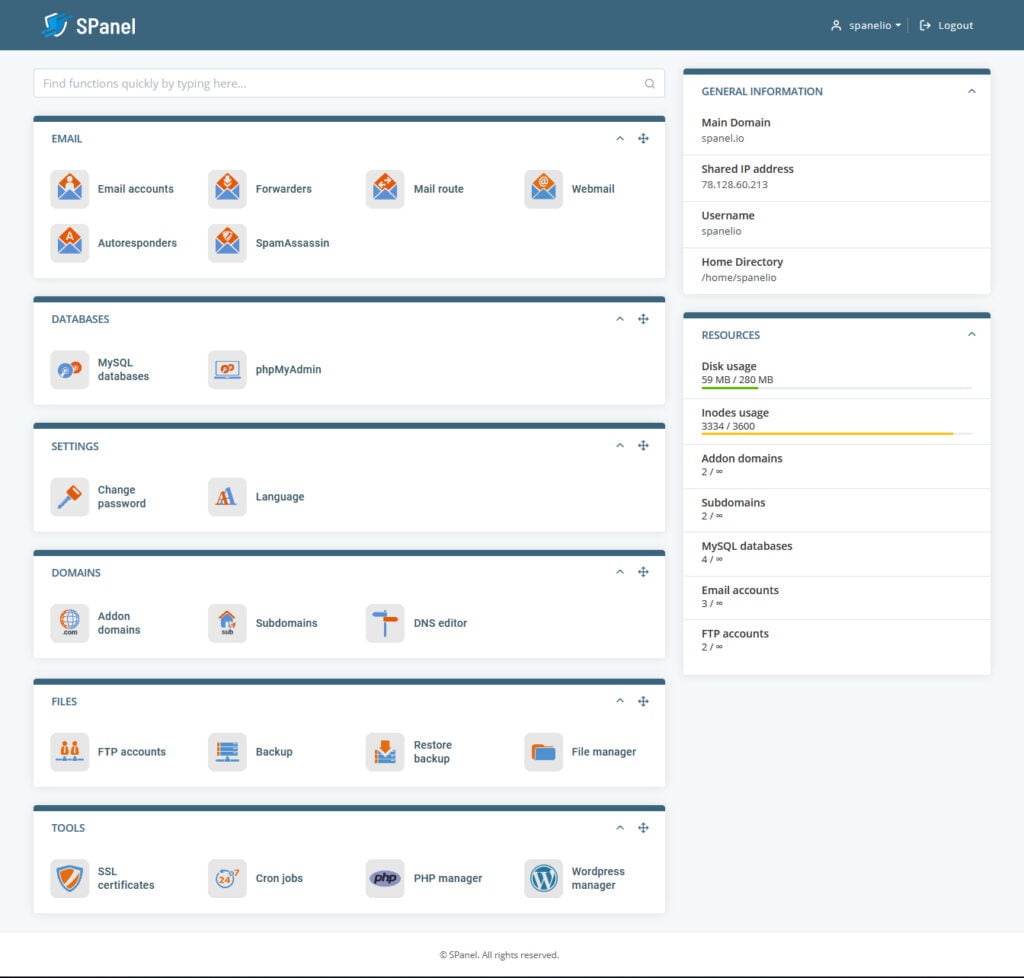 In the new version of SPanel you can provide direct access to the control panel to your customers. That allows them to manage their hosting accounts completely as the new interface has everything that a website owner needs today.
Adding/removing emails, domains, subdomains, databases, editing DNS zones, generating or restoring backups, editing files via the file manager, installing SSL certificates, changing the PHP version for any of your websites or managing WordPress via the SWordPress Manager are just some of the features in the new stunning user interface.
Introducing The SPanel Admin Interface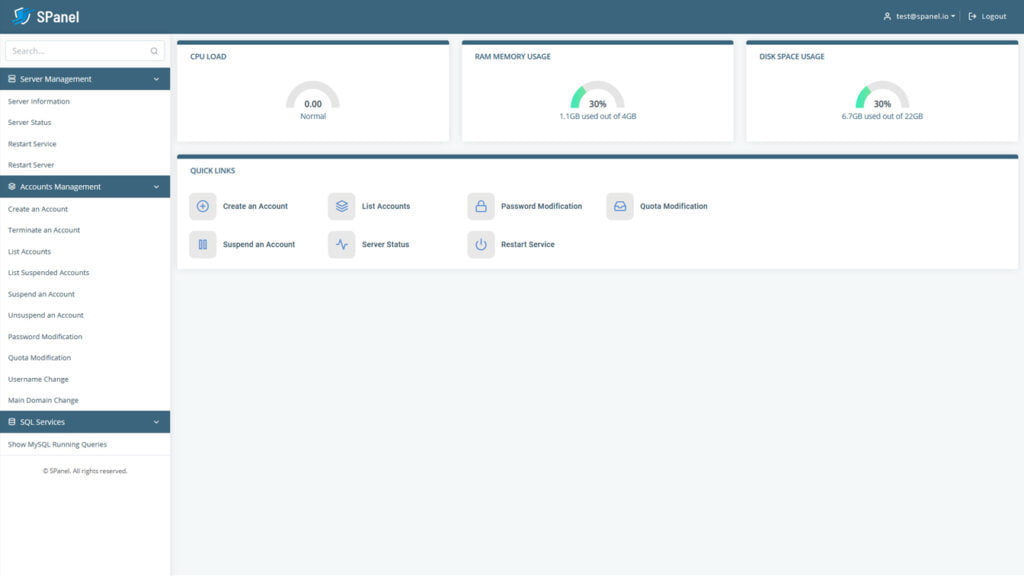 SPanel v2 has 2 areas for management. One is for end users managing separate accounts/websites and the other is for the management of the server. From the SPanel admin area you can create, terminate and manage your accounts. You can change their passwords, disk and inodes quota, suspend or unsuspend accounts, modify their main domain name or username. You can also see information about the server such as the current CPU/RAM/Disk utilization, information about each of the services running on the server with their status and an option to restart each of them. You can also see the currently running MySQL queries.
Featuring OpenLiteSpeed, The Fastest Web Server in The World

The new version of SPanel is better than ever before. It supports the OpenLiteSpeed web server which is the fastest in the world for serving both dynamic and static content. Your website will be blazing fast and will load in a blink of an eye. The great thing about OpenLiteSpeed is that it supports all caching plugins of the paid version of the web server called LiteSpeed Enterprise. Those caching plugins are developed to work specifically in LiteSpeed web server environment and deliver better/faster results than any other caching system in the world. While LiteSpeed Enterprise is a 100% drop-in replacement for Apache and costs extra, OpenLiteSpeed is free and is as fast as the paid version. The only disadvantage of OpenLiteSpeed is that it doesn't support everything in .htaccess that works in an Apache web server environment. The good news is that it supports mod_rewrite which in most cases is more than enough especially in cases with WordPress websites where you have a huge gain.
Designed For Security and Better Experience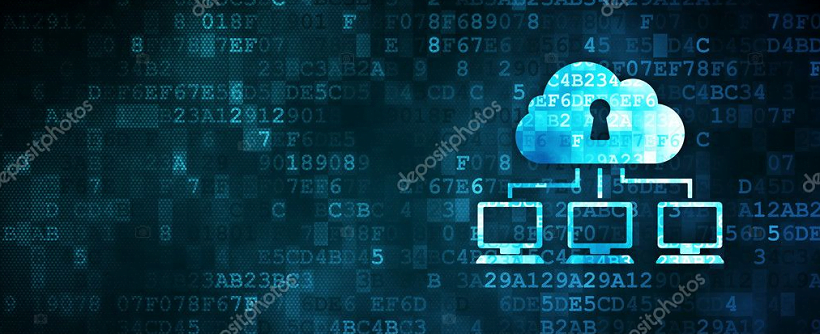 All features around the new version of SPanel have been designed with mind for highest security and better experience. Each SPanel VPS is custom tuned for ultimate performance. Everything is individually configured depending on the specifications of the VPS and the number of visitors it serves. With the 24/7 proactive monitoring feature website owners are taking advantage of a service that gives them a piece of mind that their website will always be online. Each website benefits from the SShield real-time protection security system, which blocks 99.998% of the web attacks and offers a new level of security never seen before.
Managed VPS is Now Affordable
SPanel is not just a control panel. It is an "all-in-one" hosting platform that made the managed VPS service affordable. It is not worth anymore to use shared hosting as its only advantage is the low price. At the same time it lacks security, reliability and control. It is like living in a small apartment in a huge building compared to living in your own house with a nice yard.
SPanel allows you to have your own server just for your websites which gives you the following advantages:
Highest security
Faster websites and better performance
Dedicated IP address
Better ranking in search engines
Emails will always reach the recipient's Inbox
Availability and Pricing
You can get your SPanel SSD Cloud VPS today at https://www.scalahosting.com/cloud-servers.html for just $9.95 per month.
ScalaHosting will migrate all your websites to SPanel from your old server at no additional cost and will verify that each website works on the new server.
Every website is moved manually by our migration specialists who are available 24/7 to transfer your website at the most convenient time for you. We help you in every step of the process to switch your website to SPanel without downtime or data loss.
Start For FREE
Contact us today for a 7-day risk-free trial to taste the new SPanel platform. We'll migrate your website at no extra cost and you'll be able to see the difference before paying anything.