How can I find the best WordPress hosting plan?
This is one of the most asked questions nowadays because WordPress is the most used platform for powering web sites. People are wondering how to decide which is the best wordpress hosting plan for them. We can answer that from our perspective based on the WordPress hosting services that we provide. Below you can see an infographic of our WP plans.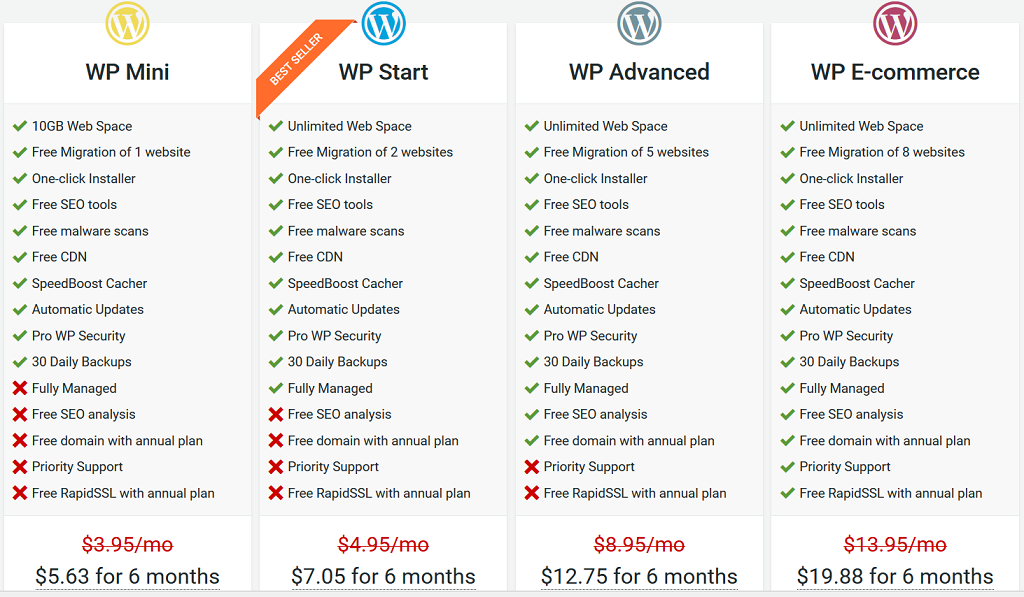 Look at the infographic. It is pretty easy to find what you need. You just need to know what you are going to use the web site for. Starting with the space requirements is a good way to choose what plan will suit your needs. If your web site requires less than 10GB space then the WP Mini plan will work just fine as long as you don't plan to host a very busy WordPress web site. The Mini plan will work for a smaller web site with ~3000 visitors daily. Note that 3000 is not the unique visitors but the total reloads of pages as the reloads is what makes the difference between lower and higher CPU utilization on the server. You may have 3000 unique visitors per day with one single reload which will max out the Mini plan or you may also have 100 unique visitors with 100 reloads per visitor. In that case the WP Mini plan will not work and you should be looking at the higher plans.
Below you can find the list of plans with their average number of reloads they can handle as long as you don't have too many WordPress plugins utilizing too much systems resources.
WP Mini – ~3000 visitors daily
WP Start – ~5000 visitors daily
WP Advanced – ~9000 visitors daily
WP Ecommerce – ~12 000 visitors daily
If your web site is more popular then the best WordPress hosting plan for you would be a SSD cloud VPS. By default, cloud vps servers come with Apache as a web server. You can order LiteSpeed for an additional fee which will dramatically increase the performance of your WordPress web site and will decrease the CPU utilization on the server as LiteSpeed is much more effective than Apache and we host thousands of busy WordPress web sites with great results and happy web site owners. It is highly recommended to get the LiteSpeed standard caching plugin as well in order to get the most of your cloud vps performance. That plugin will allow you to install and use the LiteSpeed WP caching plugin which communicates directly with the LiteSpeed cache to make your WP web site blazing fast.
See the infographic below to get a better idea of what I am talking about.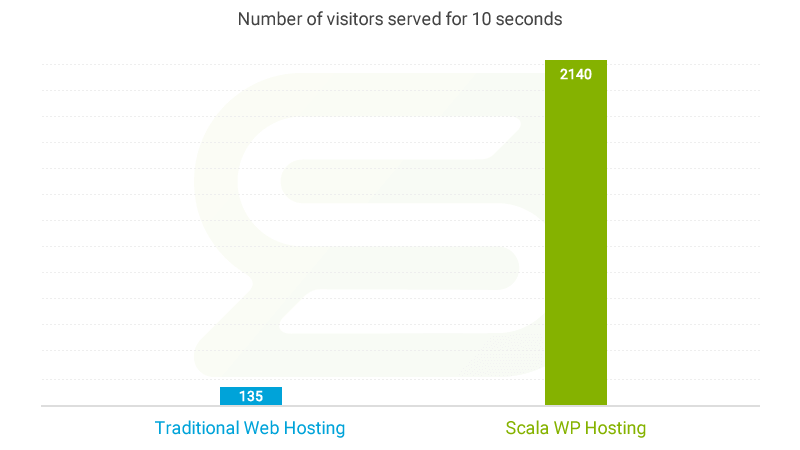 Makes a difference, right? Believe me, it is worth the extra $6 per month. If you don't spend $6 for the caching plugin you will have to spend $200 for more CPU and memory resources. It really does a brilliant job.
If you are building your web site yourself you may also look at https://www.collectiveray.com/wordpress/wordpress-themes/divi-theme-review.html which will show you how to build your web site quickly using WordPress and no special technical skills.